Voici un guide pratique à l'intention des administrateurs de sociétés qui aborde les principales questions de gouvernance auxquelles ils sont confrontés.
Ce guide publié par Katherine Henderson et Amy Simmerman, associés de la firme Wilson Sonsini Goodrich & Rosati, est un outil indispensable pour les administrateurs, mais surtout pour les présidents de conseil.
Les principaux thèmes abordés dans ce document sont les suivants :
Le but de l'entreprise et le rôle des parties prenantes ;
Le processus de délibération du conseil et la gestion des informations de nature corporative ;
L'indépendance des administrateurs et les conflits d'intérêts ;
Les conflits d'intérêt des actionnaires de contrôle ;
La formation des comités du conseil lors de situations délicates ;
Les procès-verbaux ;
La découverte de dossiers et de communications électroniques du CA par des actionnaires ;
Les obligations de surveillance des administrateurs et des dirigeants ;
Les informations relatives à la concurrence et aux occasions d'affaires de l'entreprise ;
La rémunération des administrateurs et l'approbation des actionnaires ;
La planification de la relève des administrateurs et des dirigeants.
Chaque point ci-dessus fait l'objet de conseils pratiques à l'intention du conseil d'administration. Voici un bref extrait du guide.
Vous pouvez télécharger le document complet en cliquant sur le lien ci-dessous.
Bonne lecture !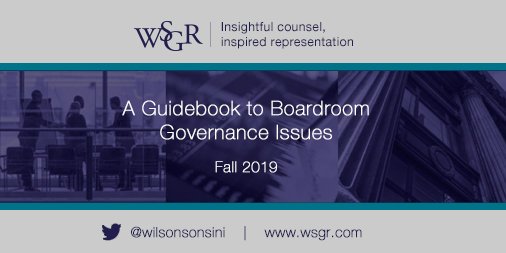 In recent years, we have seen boards and management increasingly grapple with a recurring set of governance issues in the boardroom. This publication is intended to distill the most prevalent issues in one place and provide our clients with a useful and practical overview of the state of the law and appropriate ways to address complex governance problems. This publication is designed to be valuable both to public and private companies, and various governance issues overlap across those spaces, although certainly some of these issues will take on greater prominence depending on whether a company is public or private. There are other important adjacent topics not covered in this publication—for example, the influence of stockholder activism or the role of proxy advisory firms. Our focus here is on the most sensitive issues that arise internally within the boardroom, to help directors and management run the affairs of the corporation responsibly and limit their own exposure in the process.